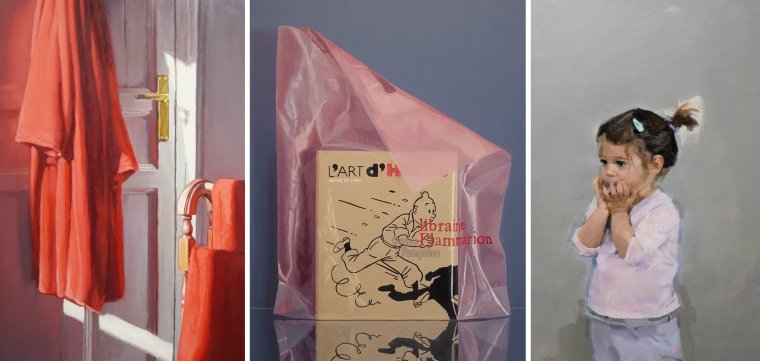 Colective
Puertas adentro- Exposición online
April 22nd - April 29th
INDOORS
Today, the day to day life of the vast majority has been confined to the space we call "home". More than ever, the domestic space is synonymous with home and refuge. Our family environment, previously only present in some aspects of our daily evolution, has become the absolute protagonist of all our activity. We develop everything in the private sphere, in our privacy.
One of the characteristics of contemporary realist painting is to represent a transcended reality, which is the expression of deep feelings, where emotion is the protagonist. For this, many of these realistic artists have as their main object their own private social environment, their relatives and the settings of their own daily life. His works are framed in an environment of intimacy and emotion, which transcend reality to evoke feelings.
With this online exhibition we aim to delve into the vision of everyday life, so present in contemporary realism, through the vision of three artists: José María Cuasante, Carlos Tárdez and Carlos Vega Faúndez. Three points of view of the realism that is done today in Spain, all of them use their own intimacy as an object, an intimacy that they share with the viewer to talk about close and at the same time universal issues. Painting as a vehicle to thrill.
José María Cuasante (Fresno de Losa, Burgos, 1944) presents a small series of interiors, a recurring theme in the artist's iconography since the late 1980s. In these themes, through a much looser brushstroke, he uses light and color, with a predominance of red, to create enveloping atmospheres that speak of the concept of home.
Carlos Tárdez (Madrid, 1976) uses his own family as a model, he tries to express the idea in the most direct way possible, his pictorial technique and the realism used are cared for, generating simple and emphatic compositions in which emptiness takes on meaning and in many cases it carries the conceptual weight in a treatment of space that draws directly from abstract painting. It is a symbolic figuration. The title of each of the works suggests and reinforces the double meanings and reinterpretations of mythological passages, always leaving the subjective interpretation of the viewer open.
Carlos Vega Faúndez (Constitución, Chile, 1972) represents on his canvases bags containing exhibition catalogs, with his virtuous brushstroke he shows us a renewed and personal vision of the "painting within the painting" through the works that appear on the covers of said catalogs. They are those catalogs and books that awaited us at home, and at the moment they are allies in our confinement.